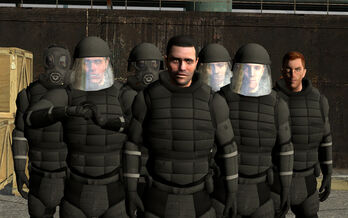 FlintValley Mercs are a group of Mercenaries,Ex Cops and former Military. Some soldiers are old Recruits from RageMachines Militia which was over-run and taken over by Flint Valley
Appearance
FlintValley mercs generally wear Swat gear stolen from police Departments. FV Officers wear uniforms similar to a normal police officer and the Enforcers wear Riot gear
The former Ragemachines
The Ragemachines was a militia group consisting of mostly fe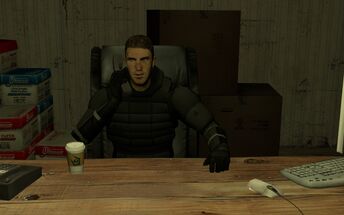 male clone soldiers whom were also part of Zebraforce.
Despite The large population of clones Ragemachines had some Male recruits.
The Male recruits were either trained upon enlisting or already had required experience but were layed off after a few weeks due to Tactic differences and disagreements with the clones.
One of the recruits Marlow also known as "The Boss" gathered up with the rest of the recruits after they were sent back home to form his own Faction now known as FlintValley.
Marlow managed to persuade some dirty cops into joining FlintValley and even got them to steal some Swat gear, Even though FlintValley was under-powered They attacked RageMachi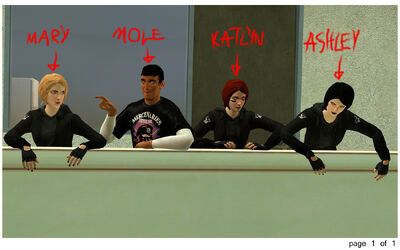 ne Militia and even Killed their 3 Generals, Katlyn,Mary and Ashley.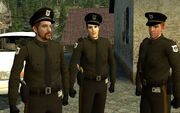 Marlow Pierce's army is heavily influenced by law enforcement both in uniforms and combat He even has his own personal collection of police cars ranging from CrownVics to the new Ford Taurus interceptor.
Marlow is heavily critisized for allowing a Clone to be second in command
Captain Arendelle was formerly one of clones FlintValley uses for tank crew whom were recruited after Zebraforce collapsed. No one knows why Marlow trusts a Clone so much.