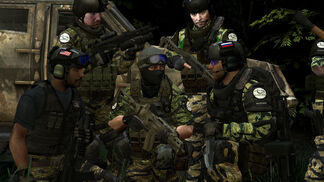 Task Force: Raptor
, occasionally called
Raptor Team
, is a elite strike team from
Blackforce Corporation
, with operative
Glazkov 'Danilov' Danilovich
leading the unit since it's creation
Founded in 2002 during the PMC's combat deployment in Afghanistan. Since it was founded, Raptor has been on multiple deployments, a few as either a black ops unit or deep cover reconnaissance, with their first deployment in the Espionage Wars being near Lüchow deep in Northern Germany, about 140 km north-east of the current battlegrounds in Hanover, then relocated to Zerbst, around 35 km south-east of Magdeburg. Due to the fighting being quite, there were plans to return to Hanover, however that's now being scrubbed due to VU detonating a dirty bomb in the middle of the city, completely destroying the city. Now, their new deployment will be back to Iraq to link up with the majority of Blackforce units there.
What makes TF: Raptor well known is that they were the first unit from Blackforce, in fact the first unit from any private military company in the world, to be deployed to Iraq during the invasion in 2003. For the duration of the invasion they were attached to 1st Marine Recon Battalion - 2nd Platoon, Bravo Company to be exact. Also during Raptor's time with 1st Recon, they were classified as a CIA black ops unit to conceal the fact that they were PMC operatives, but not many Marines were convinced due to Raptor's gear, weapons, Blackforce markings and also different nationalities which gave away who they really were.
Despite this, 2nd Platoon kept their cover and also praised their combat and operation skills to such an extent that, even in 2015, they try to keep in contact with each other as brothers in arms.
Members
1st Lt. Glazkov 'Danilov' Danilovich - Commanding Officer