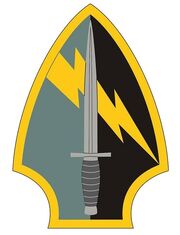 Task Force Zulu is a military force stationed in Slovenia, they hold no real political view but they fight for what they see to be the "good side" most of the citizens would see the TFZ as a peacekeeping military than a offensive military, in some manners this is true. Trained for over thirteen months the TFZ offers the best soldiers out there, just recently the TFZ has started making moves in the Global Espionage-War, although being new it holds great probabilites for it's allies.
Military
1st Infantry Brigade (Ground)
3rd Engineering Core (EOD and Repair Specalists)
3rd Air Mobile Battalion (Special Ops)
1st Chemical and Biohazard Brigade
1st Homeland Security Brigade (Ground and Air)
2nd Recon Brigade (Marksmen/Motorised/Deep Recon)
15th Commando "Black Berets" (Special Operations/National Security)
1st Medical Brigade (Combat Life Savers/Air Medevac)
1st Cavalry Division (Tanks/Light Armor)
2nd Cavalry Division (Mechanized Infantry)
The TFZ has 70 000 troops and is still growing, below you will see where troops are stationed and how many of them are there (Will be updated)
Ukraine = 30 000 Troops (Ground: 3rd EC/3rd AMB/1st MB/1st CD/2nd CD/2nd RB) (Air: 1st RWD/1st IB)
Slovenia = 35 000 Troops (15th C/1st MB/1st HSB) (Air: 2nd RWD/2nd IB)
Tanzania = 10 000 Troops (1st CABB/1st RWD/1st IB)
Airforce
1st Rotary Wing Detachment (Main Infantry)
2nd Rotary Wing Detachment (Special Operations)
1st Interceptor Brigade (Fighter Jets/Bombers)
2nd Interceptor Brigade (Fighter Jets/Bombers)
Leadership and Allies
TFZ Leadership consists of a Director a Commander and a Chairman
The Directors job is to direct the Infantry part of the TFZ, where to attack when do to do it, where to do it, how to do it. The Director is mostly involved in wars and troop managment.
The Commanders job is to cordinate Naval and Air force units, the sea is his office, you get the gig.
The Chairman takes care of Political problems within' Slovenia, he also manages Homeland Security, A chairman can only be choosen after he has served ten years in the military as a Commanding officer.
The TFZ doesn't hold many allies, the only allies it holds at the time is below.
The V.D.I though not interacted with the VDI is a allie of the TFZ.
The Yellow Star Movement, as with the VDI, this faction may hold the key to gaining peace in the Balkans.